Welcome to part 2 of a 4-part series on the Well Equipped Kitchen. We discussed kitchen tools that make eating healthy at home easier in part 1. Now let's look at some tools to make food prep and cooking more convenient.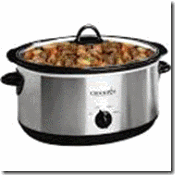 One of the most used items in my kitchen is my slow cooker. I have always owned Crock-Pot brand and have been very satisfied with the operation and longevity they offer. These handy little appliances are not very expensive and utilize very little electricity when in use. I love assembling a few ingredients in the morning, turning the slow cooker on and arriving home to a hot, home cooked meal in the evening. The aroma welcomes you home as you step in the door. It is so easy to prepare delicious one-pot meals or an entrée that you can add vegetables or a salad to for dinner. You can use a slow cooker for anything from baked potatoes to dessert. And you eliminate the possibility of burning your food which is nice. I have never set off the smoke alarm with a Crock-Pot. You don't even have to thaw anything because the slow cooker will do that for you. So far I have not found any negatives about using a Crock-Pot, other than maybe the clean up. I have noticed there is even a solution for this with slow cooker liners. Although I am not a big fan of cooking in plastic, this could be helpful for those who do not like the clean up. So if you hate spending hours in the kitchen, this is the solution for you. Some slow cooker options I prefer include multiple temperature settings and a timer. Once the cooking time is up it switches to warm so that the food stays safely at the correct temperature until you are ready to eat. No wonder these are popular wedding gifts. Even a couple that do not love to cook will find many uses for one of these. There are also good cookbooks to give you some ideas and tips on how to get the most from your slow cooker. One cookbook I found, DASH Done Slow, provides a wonderful resource for those following the DASH diet. DASH stands for "Dietary Approaches to Stop Hypertension". This book is a great resource for those following a low sodium, heart-healthy diet. Another option you may like is Skinnytaste Fast and Slow. This cookbook provides slow cooker recipes as well as recipes that can be prepared in 30 minutes or less. The nutrition information is included, which I love, so that you can easily see if the recipe fits within your particular dietary preferences.  I am sure you will find many more useful cookbooks to help you make the most of your slow cooker. If you have never used a slow cooker or it has been a while, try it. You may fall in love and never have to ask yourself after a long, tiring day "what's for dinner?" again.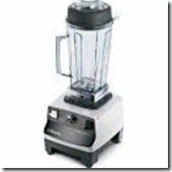 If you are trying to eat healthy, a blender is another kitchen appliance you should have. My personal choice is a Vitamix. I have had other brands in the past but grew frustrated when they would choke on ice or frozen fruits. The Vitamix does cost more but I think it is worth it. To save some cash, try a refurbished one. They are less expensive but have passed inspection to work like new. This was my preference since the thought of spending $500 for a blender makes me cringe just a little. I bought a few accessories and have used my Vitamix for everything from soup and smoothies to making bread. The cookbook that came with mine has some great recipes. I love the Holiday Soup. You just put all of the ingredients in the container in the order listed and set the timer for 6 minutes. After six minutes, you have steaming hot soup ready to eat with no cooking required. Amazing! In the dry container, I grind wheat berries to make my own whole wheat flour for baking bread. Smoothies are also a breeze as long as you allow frozen items to thaw for about 10 minutes first. I am sure there are other uses and I look forward to discovering them all.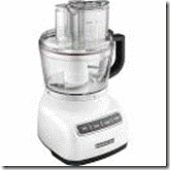 Another useful small appliance is a food processor. My preferred brand here is Kitchen Aid. I will admit that I do not use this one as often as the others. But when I want to make coleslaw, this is the best one for the job. It does a good job of shredding cabbage or making bread crumbs out of stale bread. Sometimes I use it for chopping nuts but usually reserve it for the bigger jobs. Clean up can take longer but it does come in handy on occasion. You will notice that the price may change based on the color you choose even though the model is the same. Make sure you read the instructions first especially if you have never used a food processor before. There were a few things I learned the hard way. If you are tight on budget or storage space, you may be able to do most things with your blender or a food chopper instead but it is an appliance worth considering.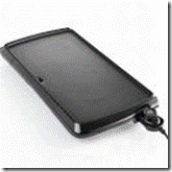 This is one kitchen helper I did not know I needed until my husband got one for Christmas. The electric griddle has been so convenient for cooking without the added grease. The non-stick surface is great and easily wipes clean. I have made pancakes, burgers and English muffins with mine. The temperature control is very useful. I keep it handy for those special breakfast meals. It is nice not having to heat up the stove especially in the summer when it is already hot. It does require some storage space but I have found a spot close to my slow cooker so my two favorite kitchen helpers are easy to get to. Just remember to use plastic utensils only and a soft cloth to clean it to avoid scratching the non-stick surface. These also make a great wedding or housewarming gift. We actually had two at one time. One was a wedding gift and the other we received at Christmas. Nice gift that has kept on giving.
Be sure to check out part 3 in our Well Equipped Kitchen series. Feel free to add a list of your favorite kitchen tools in the comments section below.


Disclosure: Ourdailychews.com participates in the Amazon Services LLC Associates Program, an affiliate advertising program designed to provide a way for sites to earn a small commission by advertising and linking to products on Amazon.com.  Participating in this program helps us cover some of the cost associated with maintaining a website. When you purchase a product from Amazon after clicking the link on this site, you pay the same amazing Amazon price and a portion of the cost will be credited to this site. Our intention is to avoid excessive ads on our site while providing quality information and a convenient way for you to find the items mentioned in our posts.
Please follow and like us: