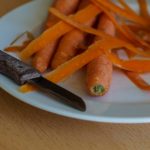 While I was writing the "Well Equipped Kitchen" series, I could not help but think about how people prepared food in times past. If you had the privilege of watching your grandmother prepare meals, you may have noticed some of these now-antique kitchen gadgets in action. If not, perhaps a trip to the antiques store introduced you to some of these odd-looking contraptions. I love the old items in my kitchen that have been passed down for generations.  I am going to share a few of my favorite kitchen gadgets from days gone by and see if you can name it and describe what it was used for. The answers are at the very bottom so no cheating. Do you have favorite items that have been passed down to you perhaps from your mother or grandmother? I would love to hear your favorite kitchen gadget stories so feel free to share in the comments below.
How did you do? Could you name them all?
Answers:   1.  Hand beater     2.  Cone-shaped colander and wooden reamer               
                    3.  Food chopper     4.  Butter mold     5. Ice crusher  
Want to see more vintage kitchen tools? There are lots of great gadgets pictured here.
Please follow and like us: