When the cold of winter starts setting in, I find myself already longing for spring. This is the perfect time of year to plan a garden. I look forward to starting my seeds indoors and drawing out my garden design for the next growing season. Choosing which vegetables to grow and buying seeds always makes me more eager for spring to arrive. Let's talk about getting ready for garden season by starting some seeds.
Once you have all of the items you need, starting your seeds indoor can be an easy way to save money by growing your own food. I invested in a grow light and some seed starting kits years ago and have been using them ever since. I highly recommend a heat mat to get those seeds germinating and have found that it is usually cheaper to buy a kit that includes the heat mat rather than purchasing it separately. You will also need a good seed-starter soil mix. I prefer the Jiffy Organic Seed-Starting mix which you can find here. You can buy all the equipment and supplies you need to begin starting your own seeds on Amazon. I was able to get everything I needed for less than $135 when I began. Not a bad investment for the savings you can get on your food bill once summer produce starts coming in. If you have an abundance of produce, you can also make a little money by selling some of it at a farmer's market. If you become proficient at food preservation (such as canning, freezing, drying), you will have an abundance all year long.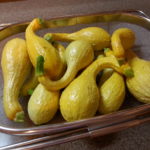 It is very rewarding to grow your own food. That is why I choose to do it. I like knowing where my food comes from and how it is grown.  The variety of vegetables you can grow is much broader when you start your own from seed compared to what you will find in most grocery stores. You also have access to a wider range of varieties compared to the plants that are available at your local garden center. There are many varieties to try and I seldom grow the same one year after year. If you have never started your own seeds before, be patient. Growing your own food is a learning process but the rewards are worth it.


Disclosure: Ourdailychews.com participates in the Amazon Services LLC Associates Program, an affiliate advertising program designed to provide a way for sites to earn a small commission by advertising and linking to products on Amazon.com.  Participating in this program helps us cover some of the cost associated with maintaining a website. When you purchase a product from Amazon after clicking the link on this site, you pay the same amazing Amazon price and a portion of the cost will be credited to this site. Our intention is to avoid excessive ads on our site while providing quality information and a convenient way for you to find the items mentioned.