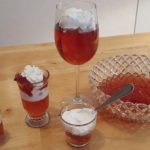 Need an easy dessert but short on time? How about a homemade gelatin dessert with no artificial flavors, colors or sweeteners? Make your own at home with two ingredients: fruit juice and unflavored gelatin. That's it! All of the carbohydrates come from natural sugar from the fruit juice.
I don't usually think of brand name gelatin sold in a box as being a "health" food because of all the junk ingredients it includes. But making your own at home can provide nutritional benefits without the junk. I wish we could have made it this way at the hospital. Gelatin is one of the few foods offered on a liquid diet that actually provides some protein. So if you are looking to lose some weight or watching your carbohydrates, give gelatin another chance. Get creative. Gelatin can make a beautiful dessert or snack. Check out the video below to see how easy it is to make.
Nutrition Info: (per 1/2 cup serving)
60 calories, 0 grams fat, 2.75 grams protein and 13 grams carbohydrate.
Note: 2 Tbsp of whipped topping contains only 20 calories.
Allergen Info: None
Disclosure: Ourdailychews.com participates in the Amazon Services LLC Associates Program, an affiliate advertising program designed to provide a way for sites to earn a small commission by advertising and linking to products on Amazon.com.  Participating in this program helps us cover some of the cost associated with maintaining a website. When you purchase a product from Amazon after clicking the link on this site, you pay the same amazing Amazon price and a portion of the cost will be credited to this site. Our intention is to avoid excessive ads on our site while providing quality information and a convenient way for you to find the items mentioned in our posts.
Please follow and like us:
Prep Time: 10m
Total Time: 4h 10m
Yield: 4 (1/2 cup) servings
Category: Dessert
Ingredients
2 c fruit juice, your choice
1 tbsp. unflavored gelatin
Instructions
Mix 1 tablespoon of gelatin in 1 cup fruit juice until dissolved. Heat other cup of fruit juice in microwave for 2 minutes and pour into gelatin mixture. Stir until gelatin is totally dissolved. Pour into containers of your choice and cover. Chill in refrigerator for 4 hours or until set. Top with whipped topping if desired.