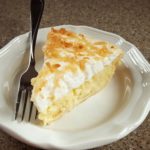 There is nothing quite like a pie with a cream center and a light fluffy meringue on top. If you like coconut, you will love this coconut cream pie. This recipe came from a church cookbook and has been one of my favorites for years. I have to admit that getting the meringue to turn out right did take some practice. So in this version, I have modified the meringue and followed the recipe from The New Best Recipes by Cook's Illustrated (my go-to cookbook for tested and proven recipes). And I must say the meringue turned out beautiful. It took a little more effort than my usual way of making meringue but the results were worth it. I have included the video to explain each step more clearly. I hope you enjoy the video and the pie.
Nutrition Info (per slice): 377 calories, 16.6 grams total fat, 7.6 grams saturated fat, 280 milligrams sodium, 139 milligrams potassium, 53.4 grams total carbohydrates, 1.4 grams fiber, 40 grams sugar, 6 grams protein
Allergen Info: Milk, Eggs
Please follow and like us:
Prep Time: 45m
Cook Time: 20m
Total Time: 1h 5m
Serves: 8 people
Yield: 8 slices
Category: Dessert
Ingredients
3 tbsp. flour, all-purpose
1 tbsp. cornstarch
1/2 c sugar
1/8 tsp. salt
2 c milk, 2%
3 egg yolks
2 tbsp. butter
1 tsp. vanilla
1/2 c coconut, shredded or flaked
1 pie shell, baked
Meringue
1 tbsp. cornstarch
1/3 c water
1/4 tsp. cream of tartar
1/2 c sugar
3 large egg whites
1/2 tsp. vanilla
1/2 c coconut, flaked or shredded
Instructions
Thaw frozen pie shell for 10-15 minutes. Use fork to prick holes in bottom and sides of pie shell. Bake for 10 minutes at 400 degrees. Let cool.
To make coconut filling: Combine flour, cornstarch, sugar and salt. Blend in milk and cook over boiling water in a double boiler (or use two saucepans stacked on top of each other if you do not have a double boiler). Stir mixture until thickened. Separate egg yolks and whites. Add a little of hot mixture to beaten egg yolks and stir to temper the eggs. Then add egg yolks, continue to stir and cook for about 10 minutes or until thickened. Stir in butter, vanilla and coconut and finish cooking on low heat for another 10-15 minutes or until thickened.
To make meringue: Add cornstarch to water and stir until dissolved. Bring to a simmer in a small saucepan. Whisk occasionally especially as it begins to thicken. Once the mixture starts to simmer and becomes translucent, remove from heat. Mix cream of tartar and sugar together. Beat egg whites and vanilla in medium bowl until frothy. Add the sugar mixture to egg whites a tablespoon at a time and beat with hand mixer until mixture forms soft peaks. Add the cornstarch mixture a tablespoon at a time and continue to beat until stiff peaks form.
If coconut filling has cooled, return to heat until warm. Pour warm filling into cooled pie shell. Place meringue one spoonful at a time around perimeter of pie then fill in the middle. Smooth meringue as desired making sure to pull meringue to sides of crust. Sprinkle coconut on top.
Bake at 325 degrees for about 20-25 minutes or until golden brown. Transfer to a wire rack to cool to room temperature. Chill for 2-3 hours before serving. Store any remaining pie in refrigerator.