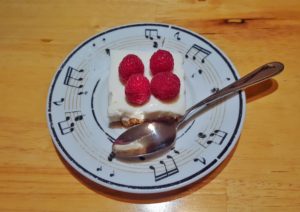 If you had to choose your favorite dessert, what would it be? Mine would probably be cheesecake. There are many versions of this all-time favorite but this recipe from Knox Gelatine® (found on the back of the box) has topped my list. I actually used a different gelatin but either work just as well. It can be made in just a few minutes and mixes easily in a blender to a creamy mixture. The hard part is waiting 4 hours for it to set. Use different toppings, garnishes or even crusts and the possibilities are endless. You can also make this with no crust.  I like to top it with fresh berries or a fruit glaze. Caramel or chocolate syrup also look pretty.  It can be poured into a pie plate for the classic cheesecake look or in a pan and cut into squares. It is high in saturated fat so I recommend using smaller portions. For this, the squares work nicely and you can get 16 small squares from an 8 or 9 inch square pan. The nutrition information is based on 1/8 of a pie so use half of the amounts listed if you are doing squares instead (assuming you only eat one square). 🙂
Nutrition Info:  283 calories, 18.7 grams total fat, 11.3 grams saturated fat, 323 mg sodium, 82 mg potassium, 22.4 grams total carbohydrates, 17.7 grams sugar, 7.2 grams protein.
Allergen Info: Milk product
Disclosure: Ourdailychews.com participates in the Amazon Services LLC Associates Program, an affiliate advertising program designed to provide a way for sites to earn a small commission by advertising and linking to products on Amazon.com.  Participating in this program helps us cover some of the cost associated with maintaining a website. When you purchase a product from Amazon after clicking the link on this site, you pay the same amazing Amazon price and a portion of the cost will be credited to this site. Our intention is to avoid excessive ads on our site while providing quality information and a convenient way for you to find the items mentioned in our posts. Thanks for your support.
Please follow and like us:
Prep Time: 20m
Total Time: 4h 20m
Serves: 8 people
Yield: 8 slices pie
Category: Dessert
Ingredients
1 tbsp. gelatin, unflavored
1/2 c granulated sugar
1 c boiling water
16 oz Neufchatel cheese (1/3 less fat cream cheese)
2 tsp. vanilla
Crust
6 Graham crackers
3 tbsp. butter, melted
1 tsp. cinnamon (optional)
Instructions
Mix sugar and gelatin together. Add boiling water and stir until sugar dissolves or about 5 minutes. In a blender, add cream cheese, vanilla and gelatin mixture. Blend for 1 minute or until creamy and smooth. Pour in bowl and chill in fridge for 1 hour.
To make crust, crush 6 graham crackers into fine crumbs. Add melted butter and mix together. Spread crumbs into bottom of pie plate or pan.
Once cream cheese mixture has thickened, pour into pie plate or pan. Refrigerate for another 3-4 hours. Add your favorite topping before serving.