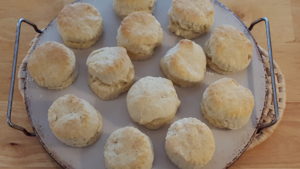 Okay, I will admit I love a good hot biscuit. What southerner doesn't? Most people would not consider this health food so I call it soul food. When I eat a hot biscuit fresh from the oven, it does my soul good. There is nothing wrong with enjoying a comfort food once in a while. My mom made biscuits from scratch almost every morning when I was growing up. My dad and I would argue about when to take them out of the oven. I preferred them light brown and on the doughy side. My dad preferred a darker brown with a harder outer crust. Either way, we all enjoyed a fresh hot biscuit. Since those days, I have looked for different was to make biscuits healthier but still delicious. My mom used Crisco brand shortening but I prefer to avoid man-made fats like margarine and shortening. The key components for a good biscuit includes fat (to give it a flaky inside and signature outer crust) along with some flour and liquid. I use some freshly ground whole wheat flour but too much whole wheat flour causes the biscuits to become too dense. Although I probably wouldn't recommend eating these every day, they do make a great addition to a special breakfast. You can reduce the fat by using half-and-half instead of whipping cream. Buttermilk also works well but it does change the taste and texture if it is fat-free. Enjoy the video below and see if it makes your mouth water. I think biscuits are best hot from the oven topped with homemade jam or jelly. But you decide.
Nutrition Info: (Per biscuit)  114 calories, 4.1 grams total fat, 2.4 grams saturated fat, 200 mg sodium, 161 mg potassium, 16.9 grams total carbohydrates, 0.6 grams fiber, 2.4 grams protein.
Allergen Info: Wheat, milk product
Please follow and like us:
Prep Time: 20m
Cook Time: 10m
Total Time: 30m
Ingredients
1 3/4 c all-purpose flour
1/4 c whole wheat flour
1 tbsp. baking powder
1 tsp. kosher or sea salt
1 1/4 c whipping cream
Instructions
Preheat oven to 400 degrees and lightly grease a baking sheet or use a pizza stone.
Sift together the all-purpose flour, baking powder and salt in a large bowl. Add the whole wheat flour and mix. Pour in the whipping cream. Stir to incorporate the liquid into the flour and make a dough.
Knead the dough on a floured surface until thoroughly mixed. Flatten out dough to an inch thickness and cut with a biscuit cutter (2" diameter). Place biscuits on baking sheet or stone and bake at 400 degrees for 10 minutes or until lightly golden brown. Serve hot.