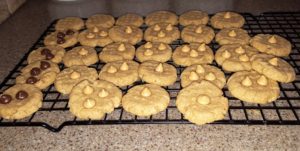 These cookies are sure to please the peanut butter fans in your family. I have adapted the original recipe to reduce calorie and fat content and avoid use of anything artificial. The original recipe came from the June 2014 edition of Diabetes Forecast magazine and has been modified to fit the recipe parameters of this website. Remember to enjoy in moderation!
Nutrition Info  (for 1 cookie):   75 calories, 3 grams total fat, 1 gram saturated fat, 3 grams cholesterol, 70 mg sodium, 12 grams total carbohydrate
Allergen Info: Contains wheat, egg, peanuts
Please follow and like us:
Prep Time: 20m
Cook Time: 10m
Total Time: 32m
Yield: 32 cookies
Category: Dessert
Ingredients
2/3 c brown sugar
1/4 c granulated sugar
1 3/4 c all-purpose flour
3/4 tsp. baking soda
1/2 tsp. kosher or sea salt
3 tbsp. butter
2 1/2 tbsp. light butter
1/3 c peanut butter, smooth or crunchy
2 tsp. pure vanilla
1 egg white
3 tbsp. water
Instructions
1. Preheat oven to 350 degrees. Line 2 baking sheets with parchment paper or lightly grease. 2. In a medium bowl, combine the sugars, butters and peanut butter until smooth. Add the vanilla, egg and water. Beat until combined. 3. In another bowl, combine the flour, baking soda and salt. Stir the flour mixture into the peanut butter mixture in several batches. 4. Shape the dough into 1-inch balls and place them on the prepared baking sheets, spacing about 2 inches apart. Dip a fork in water and use it to flatten cookies, making a crisscross pattern. 5. Bake the cookies for 8-10 minutes, until just set. Remove the cookies from oven and cool them on baking sheets for 2 minutes. Remove cookies from baking sheets and let cool completely on wire racks.