If you are trying to cut back on your carbohydrates but can't imagine giving up your favorite sandwiches, try exchanging a healthy tortilla for those sandwich breads, buns, rolls or hoagies. These Spinach Flour Tortillas make great wraps with lean meats, cheese and veggies inside a lovely green-speckled tortilla. Each tortilla contains 94 calories, only 15 grams of carbohydrates and are low in saturated fat. With only 5-6 ingredients and about 30 minutes of time, you can make your own healthy tortillas at home. There are no trans fats, sugars, preservatives or other artificial ingredients in these yummy flat breads. Roll them as thin as you like and add your own variations to spice things up. For more fiber and nutrients, you can exchange half of the white flour for whole wheat flour. These may also lend themselves well to being gluten-free by using gluten-free flour. Although I have not tried this, I imagine it would work pretty well.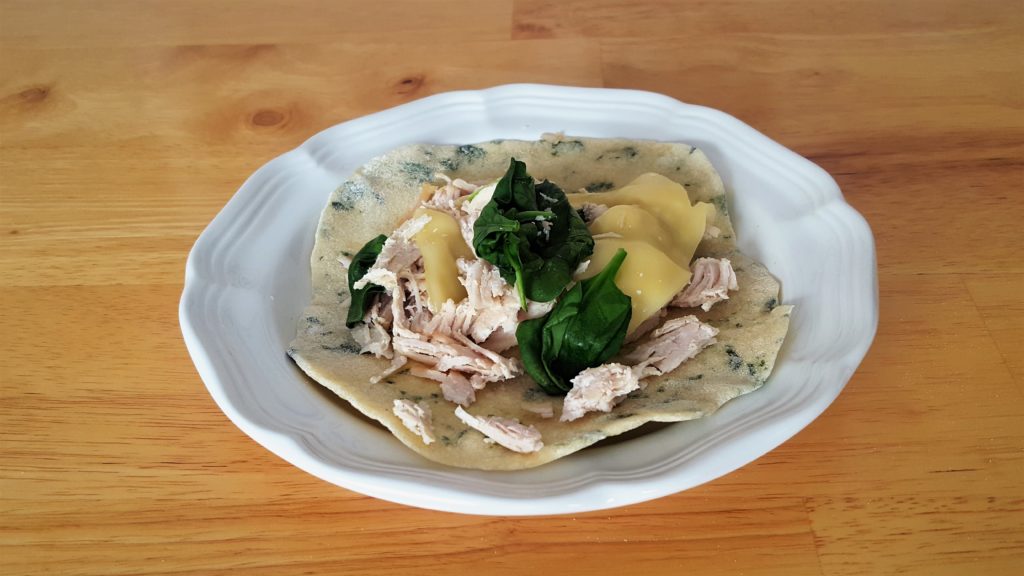 Note: This recipe was found in a Better Homes and Gardens magazine from April 1997.
Nutrition Info: (per tortilla) 94 calories, 2 grams total fat, 1.2 grams saturated fat, 113 mg sodium, 72 mg potassium, 15 grams total carbohydrates, 0.6 grams fiber, 2.2 grams protein.
Allergen Info: Wheat
If you make these, please let us know by commenting below. Feel free to share this video and subscribe to our YouTube Channel for more videos each week. Check out the video below to see how simple these are to make. Enjoy!
Please follow and like us:
Prep Time: 25m
Cook Time: 5m
Total Time: 30m
Serves: 12
Yield: 12 (8-inch) tortillas
Category: Bread
Ingredients
2 c all-purpose flour
1 tsp. baking powder
1/2 tsp. salt
2 tbsp. butter, softened
1/2 c warm water
1 c spinach, cooked, chopped and drained
Instructions
Combine flour, baking powder and salt in large mixing bowl. Cut in softened butter with a pastry blender or two forks until mixture resembles a coarse meal. Add half of water and incorporate into dough. Continue adding more water a little at a time until dough can be gathered into a ball. Add additional water if needed. Knead dough on a lightly floured surface about 15-20 times and allow dough to rest for 15 minutes.
Heat a nonstick griddle or cast iron pan to medium heat. Divide the dough into 12 equal portions for 8-inch tortillas and roll into balls. Flatten out each ball one at a time and roll with rolling pin to make a circle. Repeat until all 12 balls look like tortillas. Stack tortillas between sheets of wax paper as you work to keep them from sticking together. Place tortillas on heated griddle and cook for about 30 seconds on each side. Turn once dough bubbles in the middle. It is done when the edges of tortilla curls slightly. Remove from heat to a bowl and keep covered to stay warm while you cook the remaining tortillas. Use tortillas immediately or cool before storing in the refrigerator. Tortillas will keep for 5 days in the refrigerator or up to 6 months in the freezer. Thaw completely before using.
For variety, you can add 1 tbsp. chili powder or 1/4 cup tomato paste to flour. Add additional water as needed.