This week we are focusing on making our kitchen safe. Food borne illness is very serious and claims the lives of 3,000 people a year in the US. With a little diligence in the kitchen, this can be prevented. And we are all about prevention here. I have included my top picks for items needed to guarantee you and your family eat safe at home. My choices listed here can reduce your exposure to pathogenic bacteria. Please feel free to share your tools or methods to improve food safety.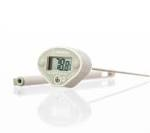 Of course, I must include a kitchen thermometer. Food safety is very important and the only way to know for sure your food is cooked to the proper temperature, is to check it. I found this tapered probe digital thermometer from Thermoworks® and am so happy with it. Most of the thermometers I previously used had large probes that left big holes in my food. They also took too long to register the temperature (which is a pain for a busy and somewhat impatient cook). This thermometer has a thinner probe so it registers faster, requires less of the probe to be in the food and leaves a smaller hole. It comes with a probe cover and instruction sheet with recommended cooking temperatures for food safety. I never cook meat without it. I have other thermometers in my kitchen drawer but if anything happens to this thermometer, I will buy another one immediately. Be sure and be safe.

  Another worthwhile investment is a refrigerator/freezer thermometer. If you have ever lost electricity and wondered if the food in your refrigerator or freezer was still safe once the power came back on, you could have benefited from one of these handy little thermometers. Keeping one of these in your refrigerator and freezer will let you check at a glance and know quickly if your food is being kept at the proper storage temperature.  There are many styles to choose from and costs vary but I prefer the simple dial type with large print and color-coded temperature zones. You never want to find out that your refrigerator has died and your food has gone bad after you ate it. Be prepared to be safe.

While we are discussing food safety, I would like to mention the newest addition to my kitchen gadgets. This touchless soap dispenser comes in very handy after working with chicken or other foods with which you do not want to cross contaminate. This motion-sensor soap dispenser works with batteries and easily can be filled with any type of soap or detergent. I personally fill it with Dawn dish soap. I like the one that has adjustable settings so that you choose how much soap to be dispensed at a time. It also lets you know when the soap level is getting low and you can turn it off when not in use to save the battery life. I wish I had bought one of these a long time ago. It has made clean up so much easier between messy jobs in the kitchen. The stainless steel look blends in wonderfully with my faucet. It was well worth the money for the peace of mind in knowing that I have reduced my risk of cross contamination and food borne illness.
Click here to check out part 4 of our 4-part series on The Well Equipped Kitchen.


Disclosure: Ourdailychews.com participates in the Amazon Services LLC Associates Program, an affiliate advertising program designed to provide a way for sites to earn a small commission by advertising and linking to products on Amazon.com.  Participating in this program helps us cover some of the cost associated with maintaining a website. When you purchase a product from Amazon after clicking the link on this site, you pay the same amazing Amazon price and a portion of the cost will be credited to this site. Our intention is to avoid excessive ads on our site while providing quality information and a convenient way for you to find the items mentioned in our posts.
Please follow and like us: