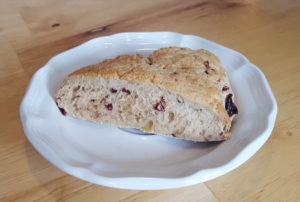 Do you ever get tired of eating the same things over and over? Are you looking for some new breakfast ideas? I was having the same problem and decided to try making scones. I had never made scones before so I was eager to give them a try. I was pleasantly surprised with how well these turned out. I looked at a few different recipes for general guidance and then made up my own version based on what I like and staying within my nutritional parameters. The sweetness comes from the honey and dried fruit. You could use fresh fruit as well. The whole wheat flour adds fiber and gives it a denser texture. These were easy to make and bake in about 15 minutes. I used a stand mixer which makes the job even easier. I apologize for the lack of video to accompany these but they are so simple, I don't think a video is very beneficial. I hope you will try these for yourself. For a little extra sweetness, feel free to sprinkle with powdered sugar or (my favorite) drizzle with pure maple syrup. Let me know in the comments if you try the recipe. I would love to hear how yours turn out and how you prefer to eat them. They go great with a cup of hot green tea. Yum!
Nutrition Info: 297 calories, 7.7 grams total fat, 1.4 g saturated fat, 5.2 g monounsaturated fat, 1 g polyunsaturated fat, 364 mg sodium, 52.8 g total carbohydrate, 2.5 g fiber, 22.9 g sugar, 6.6 g protein per scone. (Makes 8 servings)
Allergen Info: Wheat, milk, egg.