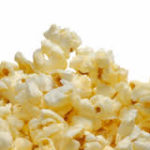 Popcorn is a great snack that takes little time to prepare. Microwaving popcorn is the easiest and quickest way to enjoy a great snack that is low in fat and sodium and provides 3 grams of protein and 4 grams of fiber per ounce (that's almost 4 cups popped).   I am surprised at how many people think popcorn is an unhealthy snack. I suppose it got that reputation from all the butter that movie theaters add to it. Commercial microwave popcorn can contain undesirable chemicals that quite frankly, I do not want in my bag. So to remedy that and bring back popcorn as a wholesome snack, let's make our own with a plain brown paper bag and a piece of tape. Within 2-3 minutes (depending on your microwave), you will have an easy (and cheap) snack that most everyone will enjoy. There are so many different popcorn seasonings on the market now that you can change flavors based on your mood. Just check the ingredients first. And even adding a little oil or butter to the bag does not necessarily make this snack off limits. Check out the video below and give it a try.
Tip: Be sure to secure the bag in order to hold in the steam. You may need to experiment with your microwave and adjust the time as needed. I used a non-GMO white popcorn from my local general store. Cost = $4.00/2.23 lbs
Nutrition Info: (4 cups)   122 calories,  1.3 gram fat, 1 milligram sodium, 96 milligrams potassium, 25 grams carbohydrate, 4.8 grams fiber, 3.8 grams protein
Nutrient information based on USDA Nutrient Database at https://ndb.nal.usda.gov/ndb
Allergen Info:  Corn
Disclosure: Ourdailychews.com participates in the Amazon Services LLC Associates Program, an affiliate advertising program designed to provide a way for sites to earn a small commission by advertising and linking to products on Amazon.com.  Participating in this program helps us cover some of the cost associated with maintaining a website. When you purchase a product from Amazon after clicking the link on this site, you pay the same amazing Amazon price and a portion of the cost will be credited to this site. Our intention is to avoid excessive ads on our site while providing quality information and a convenient way for you to find the items mentioned in our posts.