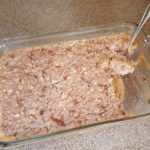 This simple bread pudding recipe is sure to get smiles and requests for seconds. I fell in love with bread pudding as a child when my grandma made it. She was known for her bread pudding and her grandchildren requested it often. Since I had some leftover sourdough bread that needed to be used, I thought I would try making my own bread pudding. This recipe is not my grandma's recipe. But I found one in my grandma's cookbook from 1944 and with some tweaks, I thought it turned out yummy.  Bread puddings can be sweet and used as dessert or savory to compliment a meal. This is not just a southern favorite. Many countries have their own version of this wonderful dish.
Nutrition Info: (per serving) 225 calories, 2.7 grams total fat, 1.1 grams saturated fat, 338 mg sodium, 282 mg potassium, 41.4 grams carbohydrates, 1.8 grams fiber, 9 grams protein.
Allergen Info:  Contains wheat, milk, egg and tree nuts
Please follow and like us:
Prep Time: 20m
Cook Time: 1h
Total Time: 1h 20m
Ingredients
2 c dry bread crumbs
4 c low fat milk (not skim), scalded
3 egg whites
1/2 c sugar
1/4 tsp. salt
1/4 tsp. nutmeg
1/4 tsp. cinnamon
1 tsp. pure vanilla
1 medium apple, diced
1/2 c pecans, chopped (optional)
Instructions
Soak bread crumbs in scalded milk until soft. Beat egg whites until light. Add sugar, salt, nutmeg, cinnamon, vanilla, chopped apple and pecans. Mix wet ingredients and pour into bread crumbs and milk mixture. Pour into a greased baking dish and set in a pan of hot water.
Bake in a 350 degree oven for 1 hour or until a toothpick inserted into center comes out clean. Serve warm or cold. Can be topped with your favorite ice cream or topping.
Note: If you are using stale bread, you can put slices in a food processor to make crumbs. You can make the crumbs as fine or coarse as you like.