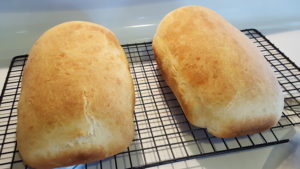 Does anything smell as good as homemade yeast bread right out of the oven? I say "not much".
If you love bread but dread the thought of consuming extra ingredients found in store bought bread, then you will love this recipe. With only 7 ingredients and some time, you can make great tasting bread for you and your family. Try making your own bread and you may never go back to buying bread again. You can make extra and freeze for later by wrapping in wax paper and placing in a freezer bag. Be sure to write the date on it and consume within 3 months. Enjoy!
Nutrition Info: (Per slice) 207 calories, 2.5 grams total fat, 1.4 grams saturated fat, 243 mg sodium, 79 mg potassium, 39 grams total carbohydrates, 1.4 grams fiber, 3.2 grams sugar, 6 grams protein.
Allergen Info: Contains wheat and milk
Tips:
Try using 1 tsp instead of 1 1/2 tsp of salt to reduce sodium by 80 mg.
Substitute olive oil for butter to cut saturated fat in half (although your total fat and calories will remain about the same).
To save calories, slice bread into 1/2 inch slices instead of 1 inch. 🙂
Please follow and like us:
Prep Time: 1h
Cook Time: 45m
Total Time: 4h 15m
Serves: 16 (1 inch) slices
Yield: 2 (1 lb) loaves
Category: Bread
Ingredients
2 1/4 tsp. active dry yeast or 1 envelope dry yeast
1/4 c lukewarm water
1 tsp. sugar
1 1/2 tsp. salt
2 tbsp. butter
2 tbsp. sugar
2 c milk, scalded
5 c all-purpose flour, sifted
1 c whole wheat flour
Instructions
Add 1 tsp sugar to dry yeast. Add lukewarm water and stir. Set yeast mixture aside for at least 5 minutes. Add remaining sugar, salt and butter to scalded milk and mix together. Allow butter to melt.
Pour cooled milk mixture into mixing bowl. Add yeast mixture and 3 cups of sifted flour. Mix together. Add additional flour until a soft dough begins to form.
Turn dough out onto a floured surface and knead until smooth and elastic. Place dough in greased bowl and cover with plastic wrap to prevent dough from drying out. Coat top of dough with olive oil. Place bowl in a warm location and allow dough to rise for about 2 hours or until doubled in bulk. You can punch down and allow to rise again if desired.
Roll dough onto floured surface and cut or pinch dough into halves. Roll into a smooth log shape and place each half in a bread pan. Grease tops with olive oil or melted butter, cover with plastic wrap and let rise for another 20-30 minutes or until doubled in bulk. Remove plastic wrap.
Bake in a preheated 400 degrees F (205 degrees C) for 10 minutes. Reduce temperature to 375 degrees F (190 degrees C) for another 30-35 minutes or until golden brown. Remove bread from pans immediately after taking out of oven and place on wire racks to cool (about 20 minutes). Enjoy!